To comply with Air Sports Federation of China (ASFC) requirements imposed for this event, the the organisers were obliged to reconfigure the status of the first FAI Formation Aerobatic Challenge from a competition to an Air Show at rather short notice.

For all pilots and teams the Classic and Signature programme formats remained unchanged, and were flown in accordance with the published CIVA Section 6 Part 5b Regulations for Formation Aerobatic Challenge events.
The twelve teams selected for this event were chosen on merit from around the world, and performed both Classic and Signature programmes on each of the three show days. Classic eight-figure sequences were designed by each team to incorporate five mandatory figures plus three others and the necessary turn-around manoeuvres, while the Signature programmes represented their formation air show routine re-designed to fit a free-style judged duration of 11-12 minutes.
The Teams:

The Yakovlevs

Yak 52

6 Ship

Great Britain

The Raptors

Vans RV7/8

4 Ship

South Africa

The Hawks of Romania

Extra 300

4 Ship

Romania

Pioneer Team

Pioneer 330

4 Ship

Italy

The Blades

Extra 300

4 Ship

Great Britain

The Global Stars

Extra and CAP

4 Ship

Great Britain

Team Xtreme

Xtreme 3000

4 Ship

South Africa

Presidential team 'ANBO'

Yak-50

3 Ship

Lithuania

The Captens

CAP-10

2 Ship

France

The Red Barons

Pitts and Extra

2 Ship

Australia

First Flight

Sukhoi 29

2 Ship

Russian Federation

Double Aces

Sukhoi + Extra

2 Ship

Spain
Official scrutiny by FAI / CIVA officers of all safety related elements at this event continued as planned, though as required the observations of and all formal output from the judging panel remains strictly confidential.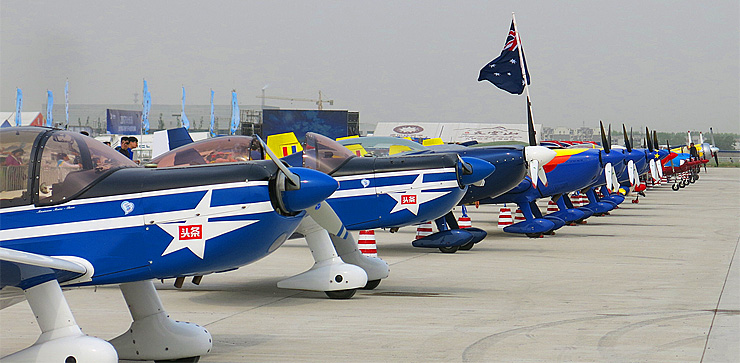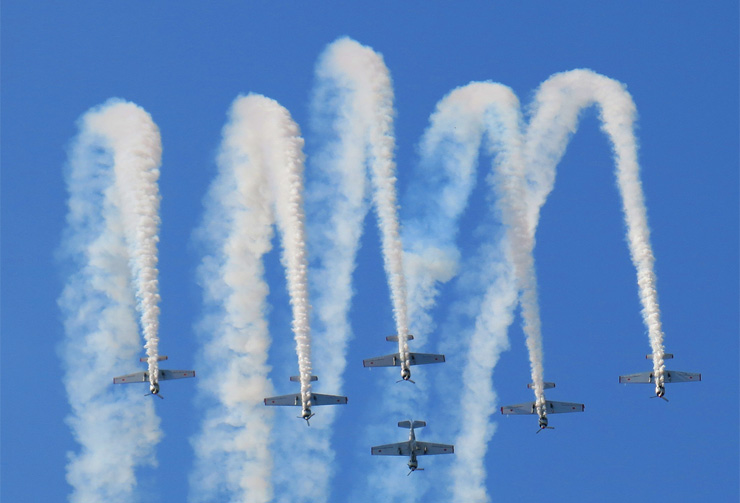 Even though a formal crowning of the winning Formation Aerobatic Challenge Team could not be made as originally planned, the event itself was a tremendous success and has provided an excellent basis from which to carry this exciting new format forward to other locations for future truly competitive "Formation Aerobatic Challenge" events.